Новости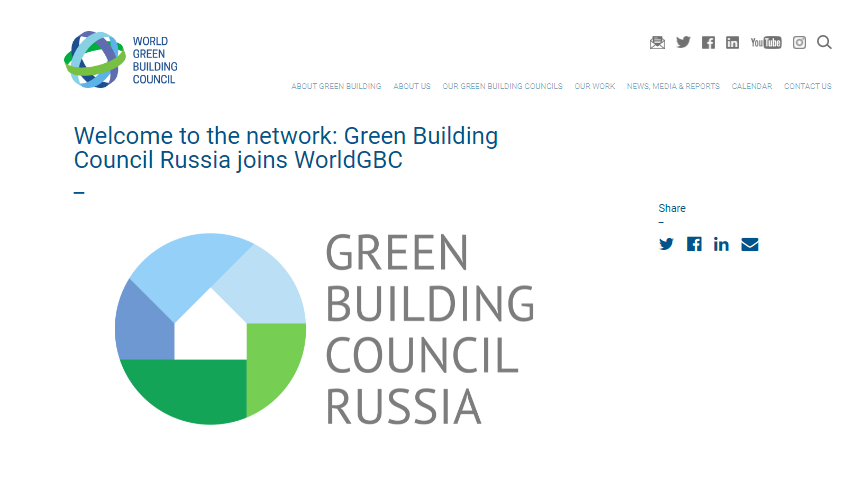 01.09.2021
Green Building Council Russia GBC Russia has rejoined the World Green Building Council WorldGBC!
Green Building Council Russia GBC Russia has rejoined the World Green Building Council WorldGBC as a Prospective member.
https://www.worldgbc.org/news-media/welcome-network-green-building-council-russia-joins-worldgbc-0
GBC Russia was founded in 2009 as an independent nonprofit organisation to become an active part of the worldwide movement. The organisation is working towards a more holistic approach to mitigate environmental impacts of the built environment, pursuing the development of a platform and the national rating toolkit for sustainable development, wellbeing, renovation and circular economy across various economic sectors. GBC Russia also aims to become a nationwide driver and a go-to source for development of the socially responsible construction industry.
Stephen Richardson, Director, Europe, World Green Building Council said:
"I am delighted to welcome GBC Russia as a Prospective Member of our global network. We look forward to working with GBC Russia and its members to foster collaboration and climate leadership both nationally and internationally. As part of WorldGBC's Europe Regional Network, GBC Russia will have the opportunity to share knowledge and best practices with leading European GBCs. As our network accelerates bolder action on addressing whole life carbon in the built environment, GBC Russia will also benefit from the knowledge and resources produced by our ground-breaking regional projects such as #BuildingLife and BUILDUPON2."
Alexey Polyakov, co-founder of GBC Russia said:
"On behalf of the founders of the GBC Russia, I would like to thank WorldGBC for providing support through the access to its resources and the European network, for playing a role of a catalyst in the early development of the green building industry in Russia from 2009. By joining the global movement, Russia has received an impulse to work on its green standard certification systems and the expert community has begun taking shape. GBC Russia has passed its first big test by supporting the construction projects for the Sochi Winter Olympics and the FIFA World Cup.It is an exciting moment for GBC Russia to rejoin WorldGBC as the green agenda is at the top of the priorities for government and business alike!"
Helena Kozlova, CEO of GBC Russia, said:
"GBC Russia team is grateful to its current members and partners for their support and collaboration. Over the years we have demonstrated organizational perseverance and resilience. The Council is being reinforced by the new members and partners - we intend to take on the challenges ahead!"
Antoine Peyrude, CEO of Saint-Gobain Russia, Ukraine and CIS, GBC Russia member,
s
aid:
"As a global partner of WorldGBC, I will be happy to work together with GBC Russia in projects related to the movement of the Russian construction sector towards more sustainable buildings and solutions. Together with Green Building Council Russia we will have interesting projects to provide more sustainable future for future generations. I'm happy to know that the Green Building Council Russia rejoins World Green Building Council. It is an exciting moment for the GBCRU team and we are proud to be a member of the Council, I hope that we will have many interesting green projects in the nearest future."
Nikolay Shmatkov, Director of Forest Stewardship Council Russia, GBC Russia member,
said:
"Green Building Council Russia is represented in the FSC Russia Coordination body, therefore the Council's membership in the WorldGBC opens new perspectives for both organizations that share common mission, goals and objectives. We will happily pursue new ideas and projects aimed at the development of the ecologically responsible construction industry and promotion of environmentally appropriate, socially beneficial, and economically viable management of the world's forests."
Daria Mozgovaya, Head of Business Development, Drees & Sommer Russia and CIS,
GBC Russia member, said:
"It is difficult to overestimate the contribution of the Green Building Council to the development of green building in Russia. As the company that stood at the origins of the Council, we know what a serious path has been taken from the information vacuum to the most advanced solutions. As a longtime partner of the global sustainability and circularity movement in the construction industry, we welcome the return of GBC Russiato the WorldGBC as a member and we are ready for collaboration and new challenging projects."
Andrey Ptichnikov, Representative in the Russian Federation of Responsible s
teel,
GBC
Russia
partner,
said:
"I believe that our partnership and collaboration with Green Building Council Russia will result in wider adoption of the ResponsibleSteel certified low carbon steel and alloys by the local construction industry. ResponsibleSteel recognizes the huge reputation that theWorld Green Building Council has globally, and we welcome GBC Russia's return as a member."
The Russian Federation is a state which is situated on more than one continent, spans 11 time zones and almost all known climate zones. Nearly 80% of Russia's area is in Asia, the western 20% of the country is located in Europe, European Russia accounts for almost 40% of Europe's total area. Multicultural and multiethnic Russia has its own distinct architectural style and construction traditions that have benefited greatly from its unique location, size and historical heritage. As a WorldGBC member, GBC Russia plans to engage corresponding regional networks.
on industry.